The dominant news over the past few days have been the Grammys, tennis (the Australian Open) and the upcoming State of the Union speech by President Trump.  Which leaves us with…
Rummy Snowflakes (#rummysnowflakes ) Released
This has nothing to do with easily-offended millennials.
Donald Rumsfeld was Secretary of Defense from 2001 to 2006, under George Bush.   He valued short informative memos as a way of informing.  These became known as "snowflakes", well before Generation Snowflake earned the term, despite his snowflake memos happening at the turn of the millennium.
George Washington University FOIA'd and released these last week.  The establishment is diving in with glee, especially to find the sillier or more casual examples.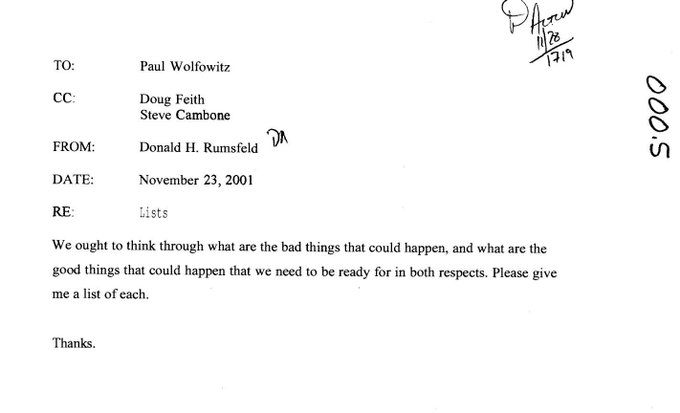 What a great read – loved it. Donald Rumsfeld's Snowflake Poetry Is Exactly What America Needs Right Now – POLITICO https://t.co/bAZnuzipqf

— Dana Perino (@DanaPerino) January 27, 2018
Going through these Rumsfeld snowflakes released today, it's hard not to feel like the Pentagon hasn't changed much despite 17 years and trillions of dollars. Here Rumsfeld worries the U.S. can't defend against a ballistic missile. pic.twitter.com/cxgRzV6aWy

— Aaron Mehta (@AaronMehta) January 24, 2018
FBI Update
This is such an on-going media-consuming story that we'll just put relevant updates here.
For the background, see last week's post and our initial recap.
The FBI had previously claimed they couldn't recover messages between Page and Strzok on FBI-issued phones.
The Justice Department now claims to have recovered those message, but is refusing to let Congress see them.  It is claiming some are "personal in nature", although that generally does not excuse potential evidence from disclosure; it would be Congress or the prosecutor who gets to decide that.
Some of those messages referred to Strzok-Page messages via email (gMail) and iMessage on their personal phones; the Justice Department isn't even investigating those.
This is particularly ironic since Strzok and Page were on the Clinton investigation of whether Hillary had used personal devices for sensitive and/or classified data that she should have kept on government systems.  Perhaps, with their demonstrated understanding of the law, they weren't the best choices to be investigation violations of it.